Welcome to the Consulate General of The Republic of Latvia to Lebanon
The Consulate General of Latvia in Beirut represents the Republic of Latvia in Lebanon and covers the 5 Boroughs of Beirut, Zahle, North of Lebanon, the South of Lebanon, and the Mont Lebanon. Its broad mission is to promote Latvian interests in Lebanon and to provide assistance to Latvians visiting Lebanon and residents. The Consulate seeks to assist in fostering broader knowledge in Lebanon about Latvia and to facilitate increased business, educational, and cultural relations between Lebanon and Latvia - one of the European Union's fastest growing and historically and culturally interesting nations.
Things you should know about Riga
Riga is the largest city in the three Baltic States
There are three major ports in Latvia - Liepaja, Riga and Ventspils, as well as seven smaller ports - Skulte, Mersrags, Salacgriva, Pavilosta, Roja, Lielupe and Engure, which are situated along the entire coastline of Latvia.
Riga is Europe's capital of art nouveau architecture
Riga is one of the greenest city in the region
Historic center in Riga is included in the UNESCO world heritage list
Riga , ranked as the best large European city for cost effectiveness by FDI Magazine
Study at latvia
Largest cities or towns of Latvia

Riga

Rank
Name
Pop.

Liepâja

1
Riga
705,703
2
Daugavpils
103,053
3
Liepâja
83,884
4
Jelgava
64,748
5
Jûrmala
56,147

Daugavpils

6
Ventspils
42,657

Jelgava

7
Rçzekne
34,912
8
Valmiera
27,217
9
Jçkabpils
26,378
10
Ogre
26,167
News of 01/24/2020
According to BALTIC TIMES
Fire commemorating 1991 Barricades lit in Riga Cathedral Square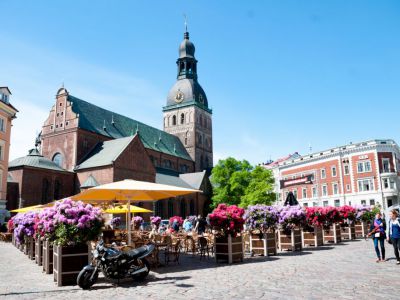 RIGA - About a hundred people participated today in an event in Riga Cathedral Square commemorating the 1991 Barricade Days, LETA observed.
A commemorative fire was lit in the presence of Saeima Chairwoman Inara Murniece (National Alliance), Prime Minister Krisjanis Karins (New Unity), Defense Minister Artis Pabriks (For Development/For), Former Latvian Popular Front Chairman Romualds Razuks, Chief of Defense Leonids Kalnins, National Security Council Secretary Janis Kazocins, Interior Minister Sandis Girgens (KPV LV), Defense Ministry's Parliamentary Secretary Martins Stakis (For Development/For), several Saeima deputies, Youth Guard and Home Guard members, participants in the 1991 Barricade Days.
Later today, commemorative events will take place in Riga Second Forest Cemetery, 1991 Barricade Days Museum, Freedom Monument, Bastejkalns, Saeima Building, and conclude with a concert in Riga Cathedral at 7 p.m.
As reported, the Barricades, organized by the Popular Front of Latvia and built and manned by patriots from all regions of Latvia, were a unique example of non-violent protest.
Construction of the barricades in Riga began in the evening of January 13, 1991. The objective was to defend the building of the Supreme Council, the Television Tower, bridges over the Daugava River, and other objects of strategic importance. The Soviet special forces unit OMON took action on January 16. Roberts Murnieks, a driver working at the Ministry of Transport, was shot dead as the OMON attacked Vecmilgravis Bridge.
The bloodiest events were on January 20 when OMON attempted to assault the Interior Ministry's building. Five people were killed: schoolboy Edijs Riekstins, two police officers - Vladimirs Gomonovics and Sergejs Kononenko, and Riga Film Studio cameramen Andris Slapins and Gvido Zvaigzne.
A cyclone dictated weather at the end of last week. Under its influence rain clouds formed above Latvia, bringing moderate rainfall to most of the country's regions. The cyclone also caused increased wind speed: 20-23 m/sec.
Monday's air temperature will reach +15° C… +20° C.
Warmer masses of air will flow into the country at the beginning of the week. This means precipitation will back off and weather will be warm. As air temperature gradually increases, it will be around +27° C… +28° C at the end of the week. Night-time air temperature will be around +9° C… +14° C.
At the end of the week, a cold atmospheric front will pass through Latvia from the north-west, bringing colder masses of air to the country. Air temperature will drop again and there will be more rain.
The government supported Economy Ministry's amendments in two sections: rules for production of electricity and price-calculation when producing electricity in co-generation and rules for production of electricity using renewable energy resources and price-calculation.
The goal of those rules is improving state support for end consumers of electricity, ensuring more efficient use of electricity and predictability of costs, as well as introducing stricter control mechanisms for CHP plants and requirements for provision of support.
To ensure accurate record keeping of electrical energy, heating energy and fuel, Economy Ministry proposes adopting rules to perform records at least once a day for produced electricity and heating energy and at least once a month for fuel used in energy production. This data is to be stored for at least five years.
Rules also state that CHP plans that have not yet commenced energy production have to reach electricity production output of at least 50% of their planned volume within the term provided for the issue of an MPC permit.


The current head of Latvia's Office for Prevention of Laundering of Proceeds Derived from Criminal Activity has decided to participate in the open selection process to stay in his post for a repeated term.

The 61-year-old Burkâns has confirmed that he would like to stay for another four-year term. He will likely submit his application next week.

«I have invested all of my effort in the service. I have not looked at other job opportunities. I needed time to assess the situation surrounding the service,» said Burkâns.

The chief of the service mentioned that the fight against crime will never be over. Still, he wants to keep working in the service to make sure the next officers would receive cases in the best possible condition. «I'm not saying cases do not fit international requirements. It is worth mentioning that requirements change all the time,» said Burkâns.

He mentioned that his service works in a very narrow range, which requires deep knowledge in law, financial affairs and money laundering prevention measures. «There is no institution in Latvia that trains officers in money laundering prevention – this is something we have to learn in time,» adds Burkâns.

«Based on what I've heard from colleagues, they want me to stay, because it would be hard for them to work with someone else. Officers have an appropriate knowledge level – any newcomer would automatically be below their level. Decisions in regards to freezing money should be made within a day or even half an hour. Such decisions have to be made quickly and efficiently,» said Burkâns.

The State Chancellery has announced an open contest for the post of the head of the Office for Prevention of Laundering of Proceeds Derived from Criminal Activity.

Candidates have to submit documents to the State Chancellery before 20 March. Candidates will be assessed by a special committee and picked by the prosecutor general.

Burkâns has remained in his post since 1998. His current term ends 31 May.